A Client's Response ...

May 4, 2007

Teresa,

"This could not have been any truer! ....
I am EXTREMELY PROUD OF YOU and equally happy! WOW!!!"
C. DiFranceisco
America First Search & Abstract, Inc.

(excerpt from Teresa's interview, published in CIPS May 2007)

"I also have time for my clients. Actually, I'm as passionate about my clients and their projects as I am about my groups.

As a consultant, I am incredibly fortunate to get to work on projects from a wide spectrum of industries. Every project provides new challenges for finding ways to manage data, streamline and automate.

Understanding my client's industries, operations and needs, I feel like
I'm their partner and it is important to provide cost effective solutions.

With the savings and benefits, my solutions typically pay for themselves in a matter of months.

My biggest reward is knowing that I truly made a difference."


Interview Response

... You provided an incredible contribution Teresa!

The very fine interview clearly demonstrates your passion, experience, insights, commitment, dedication ... It's also evident that you spent considerable time in thinking about and providing your responses. Your hard work and focus on value is very much appreciated. In fact, I feel so inspired by your efforts!

Thank you for taking the time and special care with the interview and sharing your considerable insights with the world. You are a very talented and gifted person who touches the lives of so many.

Moreover, you are making a significant historical contribution to our society, industry, and profession.

The world is like spiders web, you touch one corner and the whole thing shakes. And such is your personal vision, voice, and work -- you touch all of us and impact our vision and lives for the future.

Stephen Ibaraki, FCIPS, I.S.P., MVP, DF/NPA, CNP


Do what you enjoy,
and you'll be good at it.

I enjoy helping others, both professionally and personally. So it is a natural fit for me to direct my energies into helping businesses to succeed, leading the Access developer groups, raising money for Spinal Cord Society, being with my family, and helping my friends and colleagues.

I offer consulting and mentoring for project management, database development and business solutions. Working together, we will look at the big picture, define the critical needs, and stay focused on the goal.

With over 30 years of automating office tasks, managing projects and running my own company, I've learned what it takes to lead a team to success.

My opportunities have included:

w Instituting a national training center for the
Department of Energy (from initial concept
to implementation)
w Leading negotiations Federal and state
agencies.

w Creating automated financial statements for a
three state corporation; including budgeting
and forecasting, and the ability to review by
store or department.
w Creating a paperless patient tracking system
for a teen clinic in Uganda, as a pro-bono project.

w Earning the award of Microsoft MVP for 6
consecutive years.

w Becoming an NQA-1 certified lead auditor.

You can leverage my expertise and experience to create cost effective solutions that are right for YOU.
Send me an email

DevConnections 2011

An incredible week of exchanging ideas and learning gaining insights into future technologies from leading experts from around the world.
I had the privilege of giving a presentation on project management techniques and skills.

To request a copy of the presentation, just send me an email

Project Management:
Getting it Right the First Time

Margaret Meacham 1920 - 2011

For the past few years, much of my time and energy have been devoted to my Mom. She was a remarkable woman, who taught us to be good to others and to take responsibility for ourselves. Your support and compassion have helped immensely, so I thought it would be nice to share some thoughts and recent photos of Mom and me.


Sam Meacham 6.22.22

Papa is what many would call, the salt of earth. On June 22, 2012, I had the distinct honor and pleasure of joining him to celebrate his 90th birthday.

For the most part, it doesn't seem that people recognize and appreciate how much Papa and people like him have done for our country. He provides a strong moral basis and sense of responsibility. More about my Papa




Life is what you make of it.
So let me help you make your life (and work)
more successful and more fun.
Figuring out what you need and creating
cost effective solutions ... that is what
Data Dynamics Northwest
is all about.

Teresa@DataDynamicsNW.com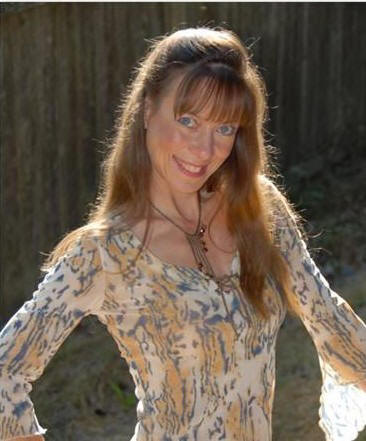 Access 2010 Programmer's Reference!

Attitude, Aptitude, Ability
Creating dynamic solutions.
Leveraging your data.
Fostering your success.

Life is full of Adventures,
Enjoy them all.


Access 2010 Programmer's Reference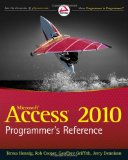 By Teresa Hennig, Rob Cooper, Geoffrey Griffith and Jerry Dennison. Supported by a remarkable team of contributing authors and editors: Armen Stein, Jeff Boyce, Albert Kallal, Doug Yudovich, Ben Clothier. Tips contributed from our esteemed colleagues Dane Miller, Garry Robinson, Steve Schapel, and Larry Strange.

Please contact Teresa for a signed copy -- or order from Amazon with Teresa's link.

Limited Time Offer for a Free Chapter
Chapter 7, Using VBA in Access
(provided by Wiley Publishing, who retains the copyrights for this work.)

Review: "I have to say that you have surpassed yourself with the Access Programmer's Reference this time. Very, very nice. I usually use books like that for reference, to look up stuff when I have a question, but in this case I have literally been reading it in large chunks and finding it hard to put down. Especially the new Access 2010 functionality, I have already learned heaps.
So thanks a lot for that, I just wanted to let you know that I am mighty impressed with this one. :-)" Steve Schapel, Access MVP


Our Book on Database Models!

Microsoft Access Small Business Solutions: State-of-the-Art Database Models for Sales, Marketing, Customer Management, and More Key Business Activities


Written by an unparalleled team of Access MVPs-
Co Authors: Teresa Hennig, Truitt Bradly, Larry Linson, Leigh Purvis and Brent Spaulding

Contributors and Tech Editors: Jerry Dennison,
George Hepworth and
Doug Yudovich;

Tech Editors:
Arvin Meyer and Armen Stein

Limited Time Offer for a Free Chapter
Chapter 4, People, Organizations, Addresses
(provided by Wiley Publishing, who retains the copyrights for this work.)
Learn how to design properly normalized database models for dozens of business applications. The companion CD contains 31 database models!


CONGRATULATIONS TERESA!


INETA

Community Champion

Profile & Photo

"The purpose of the INETA Community Champion Award program is to recognize individuals with the highest levels of contributions. Those exceptional leaders and volunteers who devote innumerable hours towards hosting user group meetings, ..."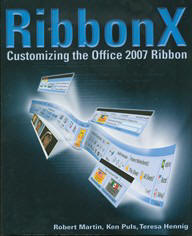 RibbonX
Customizing the
Office 2007 Ribbon

Robert Martim
Ken Puls
Teresa Hennig

Order NOW from Amazon
<![if !vml]>

<![endif]>
From the fundamentals through complete examples for Access, Excel and Word, this book provides the information and walks you through the steps to customize and create Ribbons in all three programs.

Limited Time Offer for a Free Chapter
Chapter 17 - Security in Microsoft Office
(Provided by Wiley Publishing, who retains the copyrights for this work.)
Although written primarily for 2007, most aspects apply to 2010 and several areas are applicable to Office 97 through 2003.

In the words of our readers:
Teresa,
I love your books. I have them all.
RibbonX 2007 helped me creating stunning ribbons for my Access applications.

Mudhafar July 2010
* * * * * * * * * *
Everything about the Ribbon is new; all serious developers will need, and many others will want, to know how to customize it, and this book tells you how to do it. The authors have done a splendid job of explaining it all without assuming any prior knowledge, guiding the reader through the jungle of VBA and XML in three different applications. It is a huge subject and different people will want different things from it; the book is packed (but not cluttered) with clear cross-references so that you don't have to read everything to get up and running with the particular thing you want to do. No matter what your ability or experience you will learn from this book, I already have. As computer books go, it's better than most, it's cheap, and worth far more: buy it!

Tony J. January 2008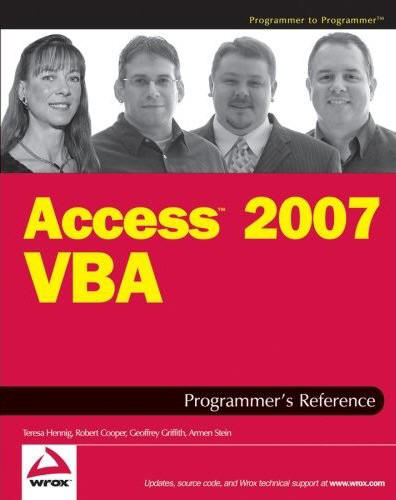 Access 2007
VBA Programmers Reference

Teresa Hennig,
Rob Cooper,
Geoff Griffith, Armen Stein
Order NOW from Amazon
<![if !vml]>

<![endif]>
This book has extensive coverage of an area vital to Access developers and power users, by a very knowledgeable team, ably led by Teresa Hennig. It includes something more than an overview explaining new features of Access 2007. That is important because: many features are new and changed in Access 2007, much of what we do with VBA is automating and enhancing features we use manually via the user interface, and the new Office 2007 user interface can be overwhelming without a helping "hand up". Then the book covers VBA from the basics to in-depth advanced levels. It is a worthy successor to the Access 2003 VBA Programmer's Reference and, in my opinion, "raises the bar" for VBA books. I'll be using it as a reference in presentations to my Access user groups, as well as a handy reference for my own work. I recommend it to Access power users, as well as aspiring and working Access developers.

Larry Linson
Microsoft Office Access MVP
Your practical examples and anticipatory comments make this manual a valuable learning experience. You not only care about conveying useful information, but have the necessary practical experience to be a trustworthy guide regarding design options.
Nice job!

John C.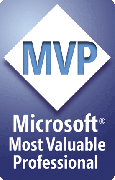 Teresa Hennig, MVP

Most Valuable Professional

... Thank you for sharing your passion and expertise and invigorating communities globally ... Steve Ballmer, CEO Microsoft

... MVP award for the inspiration and encouragement you provide to others. By reaching out and sharing your technical expertise, you empower people and help them solve problems everyday ...
Lori Moore, VP, Microsoft


This is the greatest recognition in my professional career. It is an incredible honor have earned the privilege of continuing with this elite group of professionals who are dedicated to helping the Access community.

To all my friends, associates and readers ... Thank you for allowing me this opportunity to further leverage my energies on your behalf.
Warmest smiles ..... Teresa,
Access MVP, April 2006 and April 2007



This Data Dynamics Northwest website was originally published as the Database Answer Site, which became a reference for several university classes and a resource suggested by by database tech support teams. The site was initiated in the late 90's by Teresa Hennig when she saw a great need to make it easy to find simple, straight answers to questions about databases. Questions like:

What are databases?
What benefits do they have for businesses?
What do they cost?

Many new clients would have some idea that a database could help them run their business, but they wouldn't know where to start looking. And now, the abundance of information and opinions is so vast as to be overwhelming. So, if you are among the many who are looking for basic information from someone who makes a personal investment in every project, then this site is for you.

Sections included in this site are under the headings of as answers to simple questions, the benefits of using databases, why getting customized, professional help may be your best choice, the use of databases on the web or intranet, and Teresa's favorite links. And you do not want to miss the valuable information in the About Us section.

This site is optimized for the most recent Internet browsers. And although we are experienced with Microsoft Access and Microsoft SQL Server databases, most of the information given here applies to all types of databases.

Life is full of opportunities,
remember to celebrate them all!

SCS - Research to Cure Paralysis
The 2008 SCSNW golf tournament provided a new fund raising challenge.
I needed to sell 96 gift sets of wine -
and there weren't that many buyers.
The theme was black, white and silver, so I dressed the part, sans top hat 'n tails.

As one golfer put it ...
"Who could say no
to those legs!"
The wine sets raised over $4,000! and we raised another $4,000 from photos & pledges.
THANK YOU FOR YOUR SUPPORT!!!

<![if !vml]>
<![endif]>
220 miles representing 22 years in a chair!

This 2006 fund raising effort was dedicated to my brother, Kirk Hennig, who has been a quadriplegic since a freak construction accident in 1983.
YOUR support helped raise
$10,000
for research to cure paralysis.

For more information about the 220 mile bike ride/fund raiser, please visit:
www.DataDynamicsNW.com/ride
THANK YOU FOR YOUR SUPPORT!!!


<![if !vml]>
<![endif]>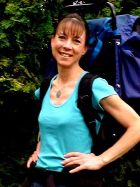 July 9 2004, I made it to the summit of Mt. Rainier!!
My efforts raised $4,500
for the American Lung Association of Washington.


Database


A database is a collection of data. An address book or a phone directory are well known databases. Unlike one of these written or printed databases, with a computerized database you are not stuck with a single format. Not only can you search for a phone number, you can also search for an address, a first name, or whatever other data, or combination of data, is in the collection. Then you add the fact that a computer database is not restricted to only certain data like name, address, and phone number and you really have something. You can collect any data you specify, such as part numbers, order numbers, dates, or product prices.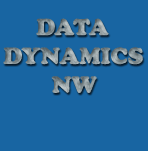 <![if !vml]>

<![endif]>
CIPS Connections

Interview of
Teresa Hennig
by
Stephen Ibaraki FCIPS, I.S.P., MVP
DF/NPA, CNP

Sharing her thoughts and tips for how to be a successful leader, run effective meetings, help members, and motivate others.
As well as her insights and expertise in business, consulting and database development.





Teresa's Interview as a series on
IT Managers
Connection Blog
This blog is a MS Best Practice and is in the top 10% of their technet blogs worldwide!

<![if !vml]>

<![endif]>
Access 2007 VBA Programmer's Reference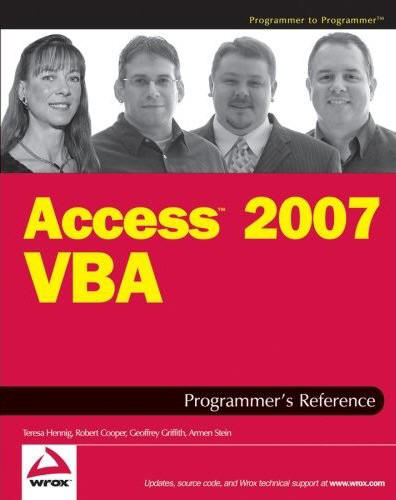 Co-Authors
Teresa Hennig
Rob Cooper Geoff Griffith
Armen Stein
Buy our book on Amazon